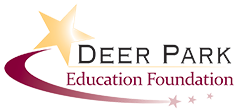 Do you know a teacher who takes money out of their pocket to do special things for students? Deer Park Education Foundation can help!
WHY SUPPORT DEER PARK EDUCATION FOUNDATION
Have you ever known a teacher who had to take money out of their pocket to do something special for their students in their classroom? The Deer Park Education Foundation is here to help! We award Teacher Enrichment Grants to educate qualified students through innovative programs.
The Foundation is a 501 (c)(3) non-profit, tax exempt Foundation that was founded in 1991 to help Deer Park ISD (DPISD) meet needs beyond those provided for by state support. Over the years, the Foundation has awarded more than $3.8 Million dollars to Deer Park ISD, which has made a difference in the lives of our students.
WORLD CLASS EDUCATION FOR OUR KIDS
To assure that DPISD can continue to fulfill its mission of excellence in education, we rely on support from:
Community Business & Organizations
…that share our commitment to a quality education for our students.
OUR TOP GRANT PROJECTS
Click each one to learn more